Colosseo Enterprise
---
Game Presentation for Sports Venues
---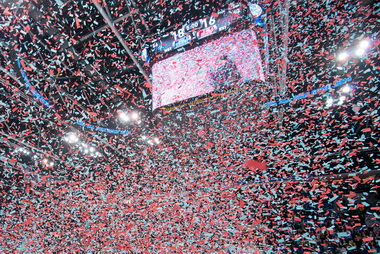 Colosseo takes advantage of the absolute latest technology to provide an unrivalled stadium experience for fans, advertisers and game presentation operators. Utilizing top-quality lightweight LED screen technology, highly advanced video processing with switching, mixing and instant replay technology and an incredibly sophisticated level of workflow integration, Colosseo's systems reduce operations staff requirements while still furnishing fans and advertisers with the best possible live experience and advanced content generation with a minimum of effort.
At the heart of the Colosseo system is the most advanced and comprehensive arena system controller available on the market today - the Colosseo Director. The Colosseo Director manages all content on all stadium screens, ranging from standard LED screens to giant LED curtain façade screens, televisions or alternative screen devices. Using Colosseo's secondary screen controllers, operators can send camera feeds to an IPTV network, to LCD TVs placed in the corridors of an arena and deliver content to iPad/Android applications. It allows operators to manage different content on different groups of arena LED screens and to stream different video channels, advertisements, graphics and statistics to every screen in the building. But primary or secondary screens are not the only media that the Colosseo Director can control. A wide range of other devices based on DMX or RS232/485 protocols can be utilized for whole game presentation workflow. Add to the in-game show effect lights, audio systems, horns or any other devices based on standard protocols and control them using Colosseo Director's automation.
But that's not all; Colosseo has designed the Colosseo Flow, a system that allows a single operator to control content from multiple media on one operator console or across a network of operators' workplaces. One key feature allows synchronized control of all media with a single click. Combined with Colosseo's Show Designer with 3D visualizer, Colosseo's Light and Sound Control, Colosseo Flow's built-in workflow and template engine, an operator can build complex event scenarios to create amazing game presentations for every sport, every time.
Single Media Platform
---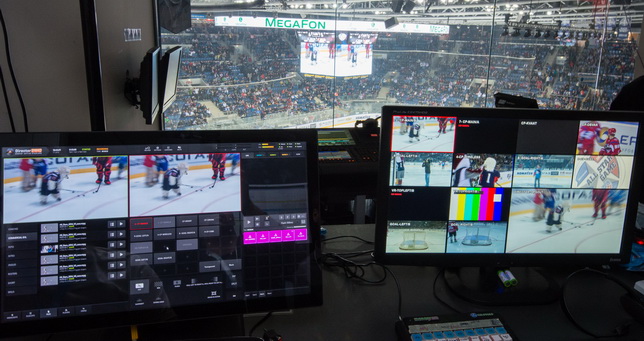 All of Colosseo's components, the Director HD, the 3D Visualizer, the Game-Show Manager and Designer are operating on the top of our Single Media Platform (SMP), simplifying operation, maintenance and connections. Colosseo's SMP integrates all data in the venue and provides a base for advanced content generation. Connect various data sources (live camera feeds, statistical/data feeds, local content, web content, etc.) and unify them in one place. Tools on top of the SMP allows you to easily combine content (dynamically, pre-rendered, etc.) and create new content building an unrivalled experience in the venue with a minimum of effort. We make it as easy as possible to automatically generate reusable content that game show operators can quickly incorporate into their live game presentation.
It doesn't matter whether only one Colosseo component is connected or ten, all seamlessly integrate with the Director HD and each component's functionality is available through both the controlling touch screen and the full-featured button-based desk with programmable keys and T-Bar (live production switcher). So whether it's advertising zipping around perimeter and fascia screens or instant replays being shown on the scoreboard or marketing being displayed on TVs in the VIP lounges, everything is easily and quickly controlled by a minimum of staff using Colosseo components connected together with our amazing Single Media Platform.
The Colosseo Director HD is a full featured video control system and advanced video processor allowing video mixing, switching, instant replays and CGI generation and integration, combining up to 24 HD/SDI inputs with an option for an additional DVI input. The system is designed for operating LED screens and scoreboards at sporting events with the focus on game presentation and marketing. It is easily operated by touch screen from the operator's console. With triggers, automated actions, states, transitions, graphic overlays, animations with infinite layers, customized player, tournament or league slides, a wide variety of inputs (SDI, IP streams, DVI, screen capture, audio, intercom and tally-light communication) archiving and plug-and-play compatibility, Colosseo's Replay Workstation is still easily controlled by just one operator.
Production Video Switchers
---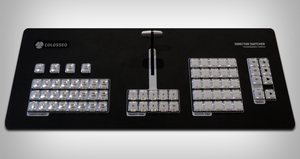 Colosseo's Production Video Switchers are focused for sport venue game presentation and give game-operators the capability to control on-screen video - managing transitions, dissolves, wipes, hard cuts and audio fades. With these professional capabilities, game-show operators can pre-program complicated graphics for advertising, marketing and in-game graphics to run around or in synch on all scoreboards, fasciae and perimeter strips.
The Colosseo Video Switcher goes a step beyond conventional video switchers with both an easy-to-learn, super-fast touch-screen controller and a full-featured button-based desk with programmable keys and T-Bar. The touch-screen controller allows not only simple operation of the system, but the possibility to set up a series of tasks and run them off of one key with our programmable keyboard. And for quick fade-in and fade-out, the T-bar effortlessly dims any video playing.
The Switcher can also easily layer video, creating outstanding game presentations and graphics that multiply advertising and marketing opportunities. Start with a simple graphic on a green screen, add a second layer, photos or statistics and then another graphic that will fade or overlap the first two. The possibilities are endless the only restriction being the imagination of the game show designer.
Slow Motion / Replay Controllers
---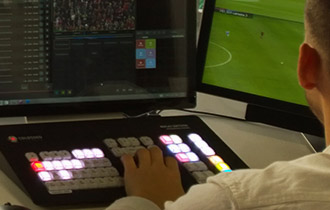 Colosseo's Instant Replay Controllers, like our Production Video Switchers, feature both an easy-to-learn super-fast touch-screen controller and a full-featured button-based desk with programmable keys. Both versions support three different types of replays the classic instant replay, a prolonged replay and full-featured replay.
To create a classic instant replay in just a fraction of a second, the game-show operator only needs to press one button. Instantly a replay available in a pre-programmed length prior to the button being pressed is available from every single camera in the arena to the operator. He only needs to choose which camera angle shows the best action and then he can put it up on any screen in the arena.
Likewise, a prolonged replay can be created in the same manner as a classic instant replay is albeit with a slightly different keystroke combination on the Instant Replay Controller. The prolonged replay is used to play back celebrations, fierce hits or other unguarded moments during intense game play.
When a game-operator's sole job is to create replays, he can use the full-featured replay - defining the start and end time plus determining the speed of playback (slow-motion or regular speed etc.).
Instant replays available on venue screens make a fan's visit to any live game action more enjoyable and, if he is using a Colosseo Mobile App, he can also view any available replay on his tablet or smartphone instantly.
LED Vision Video Cubes
---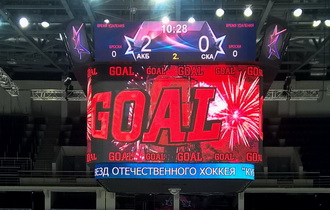 Colosseo Vision LED Video Cubes are Colosseo's custom designed, lightweight, easily serviceable LED indoor center-hung Scoreboards. They come in all shapes and sizes and we can provide turnkey project documentation providing the customer exactly what he wants. Additionally we have an amazing 360 degree double-sided Space Ring that is ideal for advertising and game-show graphics

In addition to being incredibly easy to work on, our special design creates amazingly lightweight scoreboards. We know that our equipment isn't always installed in the latest arenas and scoreboard weight can be a great concern. That's why we've taken the challenge to design our latest Colosseo Cube scoreboards for indoor arenas using the lightest metals and components to reduce their weight and increase the longevity of your arena.

The Colosseo Vision Video Cubes use a new unique snap on/snap off mount for our LED panels. The mounts eliminate screws and their weight and make the Cubes themselves simple to work on; a gentle push pops out any LED panel for easy lamp replacement.

All our panels feature high-quality 16-bit color processing LED bulbs and, our technicians look at your arena prior to building your scoreboard to make sure you receive the best value for money from your LED lamps. You can pay a lot of money for LEDs bulbs but if your arena doesn't require the brightest, most expensive LED bulb, why pay for it? We make certain we match your needs to your budget.
LED Vision Screens
---

Colosseo Vision LED Screens are Colosseo's custom designed, lightweight, easily serviceable flat LED screen panels. In addition to being incredibly easy to work on, our special design creates amazingly lightweight flat or curved scoreboards that can be mounted in the stands, hung from walls and even mounted on the back of trucks. We know that our equipment isn't always installed in the latest arenas and scoreboard weight can be a great concern. That's why we've taken the challenge to design our LED Vision Screens for indoor arenas using the lightest metals and components to reduce their weight and increase the longevity of your arena.

Colosseo LED Vision screens also employ a new unique snap on/snap off mount for our LED panels. The mounts eliminate screws and their weight and make the Vision screens themselves simple to work on; a gentle push pops out any LED panel for easy lamp replacement.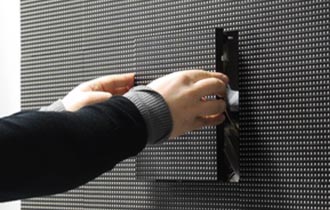 All our panels feature high-quality 16-bit color processing LED bulbs and our technicians look at your arena and screen placement prior to building your Vision Screen to make sure you receive the best value for money from your LED lamps. You can pay a lot of money for LEDs but if you don't require the brightest, most expensive LED bulb, why pay for it? We make certain we match your needs to your budget.
Show Manager
---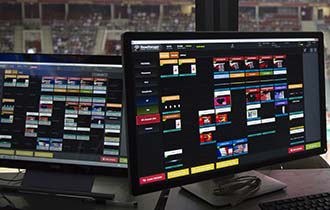 Colosseo's Show Manager lets game operators manage and synchronize animated content on all LED screens in an arena, from the main scoreboard to courtside ribbons, fasciae or perimeter strips. The full-featured animation engine has an unrivalled feature set for easy and fast operation. Simple-to-set-up programs for penalties, scoring, period breaks, etc. reduce the number of staff required to run an in-game performance.
Built into the Show Manager are Colosseo's design tools that let the stadium's creative team design a complete game experience the fan will never forget; from pyrotechnics on 360-degree wrap-around HD LED displays to unbelievably clear sound from Colosseo speaker arrays. These same systems deliver to advertisers an unrivalled opportunity to reach fans through the most dynamic stadium system ever. Messages can flow throughout the stadium, shifting seamlessly from scoreboard to perimeter strips, even appearing on the stadium webpage as fans study stats, replays and camera angles.
The Colosseo Show Manager uses exceptional 3D technology that helps game show designers not only visualize their presentations during pre-game preparation but also preview them during a live game-show action. This technology significantly reduces the time needed to manage content; especially in venues where a variety of media are involved and there is a high degree of complexity. Our Unique 3D visualizing technology allows game show operators and designers to easily see what is displayed where during the game show including displaying live video feeds. Our technology is moving game presentation design to a whole new level, freeing operators and designers to focus exclusively on the game show and not on the technology behind it. Another benefit of the exact control on all displays controlled by the Colosseo Show Manager during any game show is, the chances of an operator making a mistake during the game show have been reduced to an absolute minimum.
.
Smartphones
---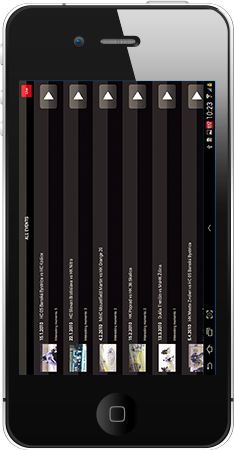 Colosseo's stadium smartphone technology enables Wi-Fi connected devices to download apps, allowing fans to watch instant replays, choose camera angles and follow real-time statistics, all from the comfort of his seat. Anyone with a mobile phone or tablet can connect to a Wi-Fi network, surf the arena's dedicated content, immediately check real-time statistics, rosters, and scores from other games and instant replays from any camera in the stadium.
Content is controlled from Colosseo Director HD and provides multiple advertising and marketing opportunities. Fans get the best of the game at the game, something no other provider can offer.
Colosseo provides full SDK/API integration if sports clubs have, or want to, integrate with their own mobile apps.
Interactive IPTV
---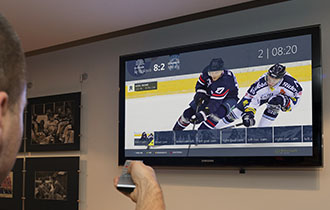 The Colosseo interactive IPTV (IIPTV) system provides unparalleled interactivity with standard LCD or LED TVs. It gives VIP suite guests a new view on events by providing alternative camera views and replays from all angles. The system can stream different content to individual screens, a group of screens or all screens simultaneously, making it easy to add varied content and multiplying advertising and marketing choices for stadium sponsors.
The interactive IPTV system starts with a full-featured interactive screen interface controlled using a standard or venue customized remote control. Fans can enjoy live streams, TV channels, game highlights from multiple camera angles, etc. We have moved boring channel changing on TV to whole new level by providing more content that visitors can enjoy, bringing a whole new value to VIP boxes.
Screens in the concession area can feature live-game action, marketing campaigns for provided goods and services and a menu while screens in access hallways can mirror whatever is on the scoreboard.
Infotainment
---

Today's fans are more demanding than ever, requiring more in-game information and the ability to compare it to past statistics or concurrent games. Colosseo has taken the industry lead in multimedia infotainment, providing spectators at the game with player data, replays, team statistics and scores displayed not only on the main scoreboard, but on TVs throughout the arena, delivered via a wireless LAN to the stadium webpage and any Colosseo mobile app. Colosseo's Single Media Platform information integration allows operators to generate h more information channels for fans easily. The Single Media Platform takes all information coming from all sources in different formats and channels it for use across all display devices.
Thanks to our integrated Single Media Platform approach, combining and presenting information across the spectrum of Colosseo display devices is effortless and brings an unrivalled experience to fans at any Colosseo-equipped arena or stadium.
Game Control & Statistics for Sport
---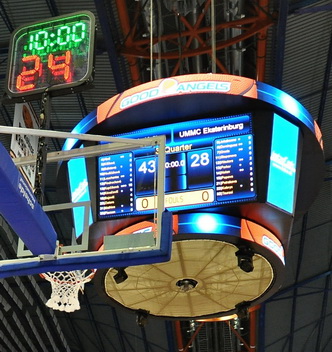 Colosseo's GamePlay system consists of the Colosseo Service Server, a timing terminal, game-specific hardware controllers and Colosseo's Video Referee. The Service Server is integrated with both the Colosseo Director and Colosseo Flow keeping fans continuously up to date with scores and times from the scoreboard to perimeter strips and fasciae. Colosseo's GamePlay system can natively handle more than 18 different sports and coupled with external timing systems provides seamless system interconnection and game automation. The timekeeping system also supports various hardware game accessories for different sports; goal and penalty lights for ice hockey; shot-clock timers and alternating possession arrows for basketball, possession lights for volleyball. And with Colosseo's Video Referee featuring five dedicated HD cameras with instant replay from any camera, referees are sure to get every call right every time.
Timing & Scoring
---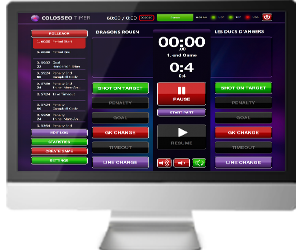 Colosseo's Timer Workstation is touch screen-based console and provides an interface for timekeepers and referees at the time/penalty bench. Referees control the main and secondary clocks (main time, shot clocks, timeouts) with hardware buttons for precision. Concurrently, game operators can enter all the necessary and additional information, collecting as much game data as possible for statistical and game presentation purposes.
Operators can connect to as many terminals as needed; normally two redundant time consoles are provided. Two or three terminals can be coordinated – one operator manages only the main time and main events while a second or third operator enters additional data for extended statistical and game presentations purposes. For the most precise time keeping, we recommend using our hardware buttons to start and stop the clock.
The Colosseo Timer, when combined with Colosseo's GamePlay Server and Game Presentation, is capable of handling a wide range of statistical information: leagues, tournaments, teams and players within all sport types. For example, the system stores each player's penalty statistics along with the metadata describing the game, tournament and/or league. An operator can then load player penalty statistics from different tournaments and present that information on the scoreboard. It is also possible to set up triggers for thresholds in statistical data, so the operator is automatically notified when milestones are reached. The system can import, export and synchronize all statistical data with third party data-providers through different types of interface adapters (IP based on Web Services, RS232/485 or other).
Video Goal Judge
---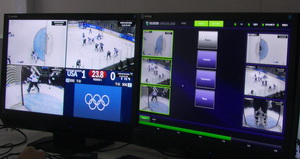 Colosseo's latest generation of Video Goal Judge(VGJ) is an indispensable tool during professional hockey games. It incorporates a minimum of 4 to 12 HD camera feeds from cameras located in the goal, over the goal, and on either side of the goal as well as regular play cameras that are also available to a referee via on-ice LED screen and controller, so when there is a question of whether a goal was scored or not, there is a multitude of camera angles at ice level to assist the referee in making the correct call.

The operator can easily analyse controversial situations by using frame-by-frame deep HD video analysissupported by digital zoom with picture enhancement technology, synchronously on all selected cameras with ability to dynamically jog backwards or forwards while zoomed.

Additionally, all connected Multiview displays that preview and analyse video can be tailored with custom-defined layouts and camera feeds which can be switched to the desired action location with the press of one button.

Interactive Timeline, a newly added feature visually representing game time, supports intelligent and automated timestamp creation based on information from timekeeping (e.g. goal, foul, end of period, etc.) or can be created manually with the option to name, time-border and describe the moment together with additional meta-information from the Timer Console.

The operator can easily switch between those moments on the timeline, analyse them or even export them in required quality with up to DNxHD quality from all camera feeds. All analysed moments from previous games are also stored on the data storage.

Colosseo VGJ fulfils IIHF video referee requirements and was already in use during important events like the 2016 IIHF World Championships in Ice Hockey in Russia and the 2014 Winter Olympic Games in Sochi with great satisfaction and positive feedback from IIHF referees. Colosseo VGJ is also widely used in the KHL and other major European leagues.
Sport Accessories
---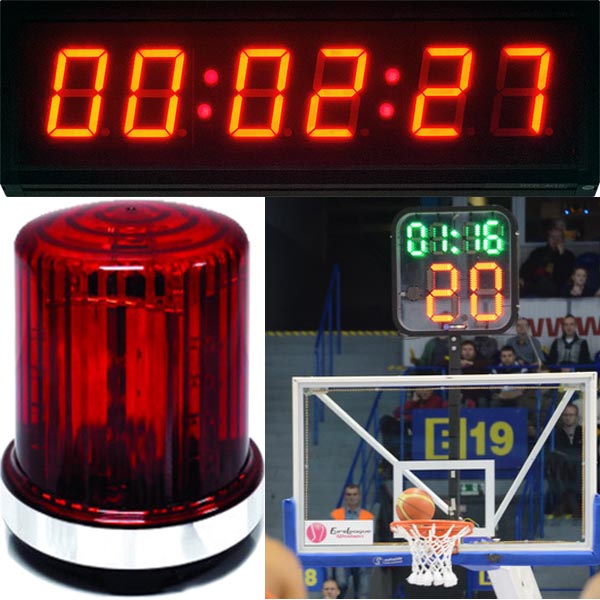 Different sports require different timing, goal scoring and possession accessories. Colosseo can provide accessories for a multitude of different sports including hockey, basketball, football, volleyball, swimming, track cycling, etc.
Our products range from in-goal cameras, goal confirmation lights for hockey to lighted possession arrows and shot clocks for basketball to swim-lane timers. All Colosseo accessories can be easily integrated into the TIMER workstation for seamless control and operation. Certified by FIBA.
Player Tracking
---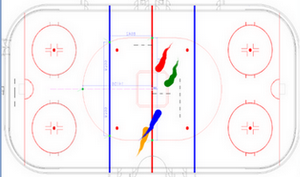 Colosseo uses the latest technology for tracking players' movement, speed, distance and touches as well as physical values like heart rate. All information can be displayed in real time on any Colosseo scoreboard, Colosseo IPTV system or through our mobile apps. Player tracking keeps a fan even more involved in any game. For instance, if he's watching a hockey game, he can see how far any player has skated, how many shots he's taken on goal and his average speed.
Further, the Colosseo Player Tracker stores all information in a database for later examination by both players and coaches. These statistics help players and coaches to adjust training schedules to individual athletes and monitor in-game performance to ensure a player isn't played past his endurance limit during a game. By monitoring training and in-game performance a player, a coach and a team will ultimately perform better.
Security for Sports Venues
---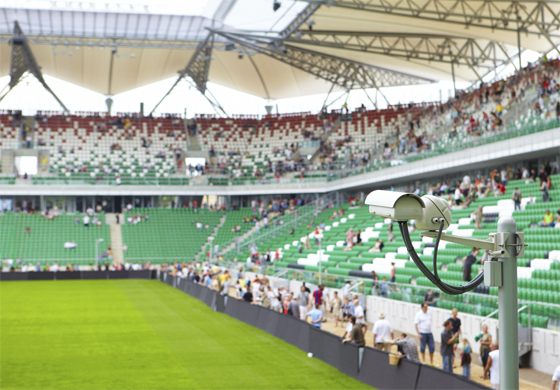 At Colosseo we believe a fan's safety and security is a stadium operator's greatest concern. Fortunately, Colosseo provides all the tools to ensure both. Colosseo supplies the most advanced access control systems on the market with built in biometrics coupled to a ticketing and cashless payment system that offers full control of who gets in, who stays out and the ability to prevent incidents before they happen. With Colosseo's security systems, stadia operators reduce the likelihood of hooliganism, vandalism and violence, making every event more family-friendly.
Colosseo starts with the Colosseo Access Control System, a modern, robust, easy to operate and integrate system with a fast and user-friendly interface. This intelligent entrance system is one of the Colosseo modules that connects to, centralizes and manages all access control points from one central location. The Colosseo Access Control system administers Colosseo's Ticketing System, Colosseo's Biometric Facial Recognition System, Colosseo turnstiles, door entrance systems and even parking lots.
Finally, Colosseo has designed a unique Cashless Payment System that allows stadium operators, teams, leagues or event management to combine all fan payments into one, central payment account (much like a credit card). This system takes the cash out of staff's hands, minimizing the opportunity for theft or fraud with increase of monetary security. The Colosseo Cashless Payment System is just another way Colosseo makes sure that stadium investors achieve excellent return on investment (ROI).
Ticketing and Cashless Payments
---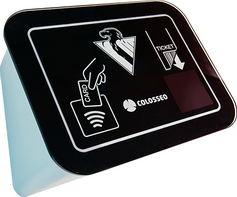 Colosseo's Ticketing System is a fully integrated POS system fully compatible with Colosseo's security system, Access Control system and Colosseo's Biometric Face Recognition System. Along with the standard physical points of sales, it offers a fully functional web-interface and is easily integrated with third-party sales channels. Colosseo's ticketing system includes an online seat occupancy and sector visualization display; support for different kinds of ticketing equipment including printers, cameras, optical bar-code and digital readers, fiscal modules as well as software support for international and national tax laws and regulations. The Colosseo ticketing system is, in fact, so flexible, so easy to configure, that there's virtually no ticketing or payment task the system can't handle.
Whether on a computer, a mobile device or at the box office, Colosseo's ticketing system enables you to always see, in real time exactly what seats are available for booking and their associated price. Further, with Colosseo's unique seat-visualization, a fan can see what the event will look like from his chosen seat.
Tickets can be printed online or pre-printed with base game information, sector and seat place information, personalized and issued with ticket codes as 1D or 2D or through mobile devices that support NFC technology. In addition to the above options, a ticket from a POS may also be issued as a contactless RFID card, two-side full color with a personalization option available for VIPs. User-friendly software enables the Colosseo ticketing system to print league sponsors, game sponsors and other forms of advertising and marketing directly onto the ticket itself. Our standard POS comes with the following basic equipment: a PC with a touch-screen monitor, a bar code printer, an RFID card issuer and an external LCD screen with online audience seat management.
Colosseo's ticketing software is flexible and comprehensive. In addition to selected seat view visualization, arena configurations are easy to set and store for different types of events (hockey, basketball, volleyball, etc.); pricing levels and discounts are easy to program as are cross selling and up selling; ticket data information is stored for use with the Colosseo Access Control System; integration with online third party ticket resellers requires little effort and couples easily with Colosseo's real-time viewing of all ticket sales. With stored ticket information, statistical analysis of arena entrances is simple, and financial results from a game, a season, a quarter or a year are a snap to calculate. The system can also accommodate parking lot or garage management.
Finally, Colosseo has integrated a Cashless Payment System into the ticketing system, enabling season-ticket holders or loyal fans to pay for tickets, concessions, gift store purchases and anything else available for sale at the stadium with a virtual credit card.
Facial Recognition / Biometrics
---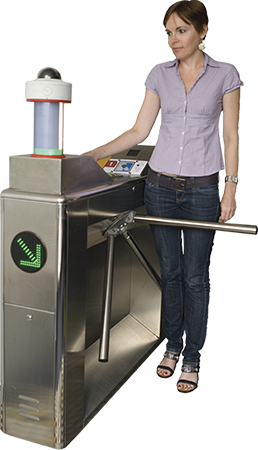 Colosseo provides the only seamless real-time biometric face recognition system on the market today. It operates in two modes, either database or ID comparison. Both modes use Colosseo's high resolution cameras to capture a person's face at the turnstile entrance, creating a biometric profile from the captured images which is then immediately compared to either an ID database or a database of known unwanted persons. If no match is discovered the fan quickly steps through the turnstile, but, if a match is found, stadium access is denied and security personnel are notified. The Colosseo Access Control System employs different modes of operation, 1:1 or 1:many, offering one-step technology and operating on all points of entry. Best of all, there are virtually no queuing delays at turnstile entrances and the biometric scanning activity does not interfere with fan comfort.
The Colosseo Biometric face recognition system can be integrated with existing turnstiles or built into Colosseo's tripod or full-profile, bi-directional moving head turnstiles. Colosseo turnstiles are made from stainless steel to guarantee a practically unlimited body lifetime with nearly zero maintenance. Colosseo turnstiles operate in two directions (in/out); have an automatic arm release for emergencies; are remotely controlled; have LED entrance/exit direction indicators; RFID card readers, NFC card readers and bar code readers. Colosseo's biometric face recognition system also works with the Colosseo Handheld Virtual Turnstiles.
Colosseo's biometric face recognition system can be employed to look for people using Colosseo's unique "face search." This dedicated application scans through a database of ticket history, entries, sector and seat assignments to find an unwanted person in the stadium or, security personnel can view live video from anywhere in the stadium to find an unwanted person.
Система контроля доступа и турникеты
---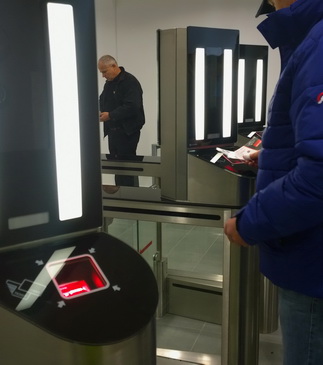 The Colosseo Access Control System serves as the base for managing all of an arena's access control points with real-time data communication and continuous arena entry-point monitoring. The system can be integrated with Colosseo Turnstiles, CCD HD cameras, access control barriers, crowd-control gates and parking barrier arms. When the Access Control System is connected to a database of unwanted, or undesirable persons, not only will they be denied entry into the arena, it will also be virtually impossible for them to purchase a ticket.
The Access Control System starts with a database that can be integrated with local law-enforcement and security agency databases so that arena security can monitor people entering the arena with the list of known undesirables.
Security doesn't stop there. System operators can upload photos of known undesirable persons into the database and should any of them try to enter the venue through a Colosseo Turnstile; the turnstile will lock, denying entry. The Access Control System can be connected to an array of CCD cameras throughout the venue and parking lot to monitor the crowd, allowing security to react to problems that may develop during the course of an event. However, if operators use the Colosseo's Access Control System and keep undesirable persons out, problematic situations occur far less frequently.
The Colosseo's system's architecture relies on open communication standards and interfaces that enable the system to interconnect to other subsystems with different types of access control systems and devices.